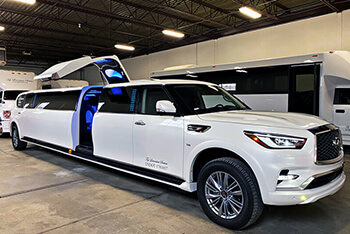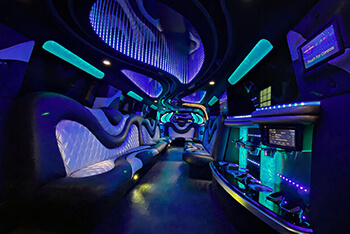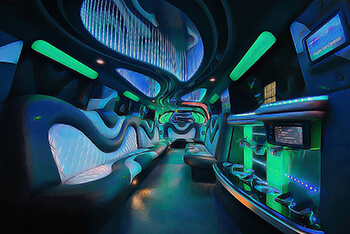 Limousine services that stand out
Looking for a limo company to cover an important event? Finding a limousine service in Flint, Michigan, is easy, but how about finding the most reliable service? Luckily, you have already found it! Our limo rentals are very popular in the Flint area because of our luxury vehicles and our professional chauffeurs. Our Flint Limos have all the amenities you are expecting and more. An incredible sound system, dance poles, DVD players, color-changing lighting, custom leather seating, built-in coolers, and tinted windows. If you want to learn more about which limos we have besides the popular Range Rover limo, you should take a look at our fleet page. There you will see our party buses and shuttle bus service. Our limo services are usually used for popular events like weddings, bachelor parties, birthday parties, and high school proms, but you can also rent a Flint limo for bar hopping, corporate travels, and sporting events. Our luxury transportation service is provided in Flint, Michigan, and the surrounding area, but you can call us and ask if we offer car service in your city. We will answer all your questions and give you a price quote.
Luxury transportation for your wedding
Ceremony location, checked; DJ, checked; wedding dress, checked; and is your wedding transportation checked too? If not, don't panic. At Party Bus Flint, you'll find the limousine service you were looking for. We will make sure you are on time and elegant on your wedding day. Like in romantic movies, you can rent a stretch limousine that will take you to the ceremony without delays and will pick you up again after it's over. A great company like ours always pays attention to every detail you need to have the perfect day. Tell us your requirements for your wedding transportation, and we will do anything to meet them. The reception is a great place to have your wedding party, but if you want to have an unusual party, you should consider our party bus rentals. A party bus rental works like a limo bus but has more room and a more party atmosphere.
Bachelorette parties and bithday parties will be a hit with our limousine rental
The best way to celebrate a bachelorette party, high school proms, or sweet sixteen parties is to rent the best limo service in Genesee County. Flint Limos give the perfect touch of glamour to your party. This is an important day for you, and aware of it, we're prepared to make you shine with our car service. If you want to keep the party, you can do it on board our flint limousines because they have amazing sound systems that will make you feel like you're in the club with your friends. In case you think a limo is too flashy for your party, then consider our Flint party bus rental. Party buses have more room for your friends than limo-buses, but with the same amenities. On board our party buses, you'll have a club experience. You'll have a fantastic time, no matter which one you pick!
Other occasions you when you might need our limo rental
We offer a top-rated airport car service in Flint that will surprise you. After a long flight, we know you would appreciate having more room only for you and a trustworthy service that picks you up on time at the airport. It doesn't matter if you're landing in the Metro Detroit area; we can bring you to Flint in no time while you enjoy a comfortable ride. For your corporate event is also important to arrive on time and have a smooth ride, especially if you have a meeting with an important business partner. That's why our Flint Limousine service will be perfect for covering this event. If you have a large crew and you think our limousine rental service won't fulfill your corporate transportation requirements. Consider our charter bus rentals. They offer more room for your group and have premium amenities. You could use a group transportation service for your sports team as well. Our limo company will make sure your team receives the best limo service they have experienced in their lives. If you're planning a trip with all the staff and it's too large to fit in a limo, then book our shutlle bus rental.
What sets our limo service apart
No need to spend more time looking for the right limousine company for your special occasion in Flint, MI. Party Bus Flint has everything you need. We have a lot of experience in ground transportation, and our Flint limousine service-Flint, MI, has the best of both worlds, late-model limos, and a fantastic staff. You can rely on us for other transportation services. Depending on the occasion, you could need a party bus, a shuttle bus, or a limo bus. At Party Bus Flint, we have the vehicles and the attention you deserve. Call us and find out how Party Bus Flint can help you save money. Our limo rental hourly rate is so affordable you'll want to book yours now. Plus, if you don't live in Flint, MI, but nearby, let's say in Ann Arbor, you can tell our agents your event details, and they'll advise if we can cover your event.